'Bisolvon Bilis- Alis Ubo Pamilya' Mall Launch
Is your family a 'Bisolvon Bilis- Alis Ubo Pamilya'?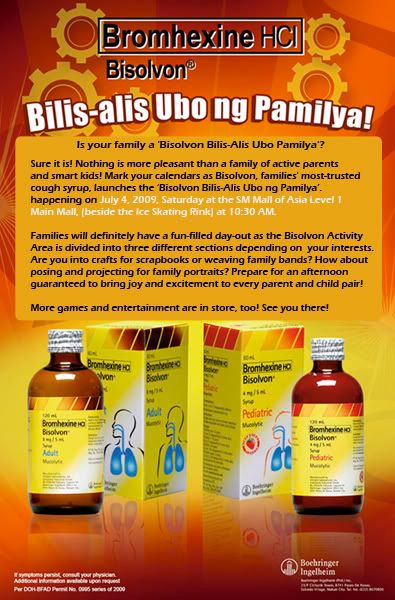 Sure it is! Nothing is more pleasant than a family of active parents and smart kids! Mark your calendars as Bisolvon, families' most-trusted cough syrup, launches the 'Bisolvon Bilis-Alis Ubo ng Pamilya'. happening on July 4, 2009, Saturday at the SM Mall of Asia Level 1 Main Mall, (beside the Ice Skating Rink) at 10:30 AM.
Families will definitely have a fun-filled day-out as the Bisolvon Activity Area is divided into three different sections depending on your interests. Are you into crafts for scrapbooks or weaving family bands? How about posing and projecting for family portraits? Prepare for an afternoon guaranteed to bring joy and excitement to every parent and child pair!
More games and entertainment are in store, too! See you there!
RSVP
Jona Oboza
09178687438